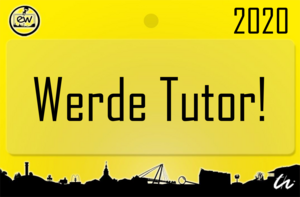 The faculties EI, IA, MB, MN and WM are again looking for first semester tutors.
Application period until 2020-05-17
For the coming winter semester 2020/2021, the student representatives of the TU Ilmenau and the Central Student Advisory Office are looking for capable, committed and outgoing organizational talents who enjoy working with people and would like to introduce a group of freshmen to their studies.
General information of the Central Student Advisory Office
Your tasks:
Supporting first-year students in orienting themselves about the structure, requirements and organisation of their studies, and
Promotion of social integration at the place of study
Supervision during the introductory week and organisation of regular meetings over the course of a semester
Obligation to report to the Central Student Advisory Office (in writing and orally upon request)
Participation in the two-day tutor training course
Scope:
October 2020 - March 2021
Weekly or monthly meetings
Your benefits:
Certificate for the activity as a tutor
(if documented) Recognition of a study achievement (Studium Generale or Praxiswerkstatt) (confirmation by ZIB still pending!)
Requirements:
Good communication skills
Participation in the two-day basic training course
Optional participation in three further modules (4 hours each) within the framework of the Studium Generale
Participation in the last information event before the beginning of the ErstiWoche
We are looking for tutors who show a sense of responsibility and find a healthy mix, between partying and proper supervision of the freshmen, because in addition to the entire leisure program to promote social integration, it is just as important that you motivate the newcomers to a quick and successful study at the TU Ilmenau.
The application process is very simple. Fill in the form (see below) and send it to the address of your faculty. Your student representatives will then contact you about the next steps.
We are looking forward to your applications!