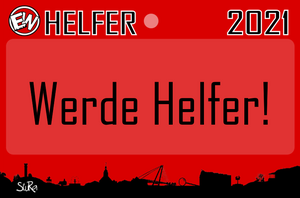 Helpers wanted for ErstiWoche 2021
Important: This information doesn't reach out for freshmen!
You are committed, reliable and want to be a part of this year's ErstiWoche?
Then YOU are in the right place!
If you want to help out during the ErstiWoche from 03.10.2021 - 10.10.2021, just enter your contact data below.
You will then receive further information in an e-mail which will be sent to you.
Of course, your efforts won't go unrewarded!
You will receive a helper badge if you sign up for two services during ErstiWoche and then fulfill them.
This helper badge gives you:
free entry to the events of ErstiWoche
1 lunch packet from Monday until Friday
... and a lot of priceless fun!!!
Helper Plans:
Important for entering in the helper plan!
Name: Max Mustermann → please enter your first and last name here
Organisation: 0160/12345678 → please enter your mobile phone number here
Contact: max.mustermann@tu-ilmenau.de → please enter your e-mail address here
Output of the helper badges: directly at the entry of the events or by mail to leitung@erstiwoche.de
Photographers wanted!
In addition to many helpers for the events, we are also looking for committed and creative photographers for the ErstiWoche. For this you will receive a "VIP Badge", with which you will be given preferential entry to every event. For photography sessions you can also sign up via the helper plan and receive your badge by the specified date.